Paul Hurst musical director     Martin Baker accompanist    Corine Thuilliez secretary
In September 2017 we welcomed a new musical director Paul J Hurst. Though Dorothy Hawkshaw stood down as MD at our last concert at Christchurch in the summer, after 10 years, we are glad that she will remain in the choir as both an alto and as music librarian.
The Fairfax Singers is a mixed-voice choir of some 36 members who have been performing a variety of choral music since its foundation in 1996.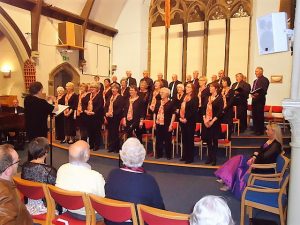 Our repertoire includes folk songs, spirituals, classical and sacred music, as well as choral items by contemporary composers. Lighter music includes songs from the shows such as Lloyd Webber and Elton John, and the classic Golden Oldies of Gershwin, Cole Porter and Jerome Kern.
Bookings and invitations to sing at your events, whether they are fund raising or social, are always welcome. We sing for charities and we are also available to sing at weddings and corporate events. We seek to promote talented young musicians and invite them to join our concerts as guest artists.
Rehearsals
All rehearsals Tuesdays 7.30 -9.30pm at SS Fisher and More Catholic Church Hall, Burley-in-Wharfedale.  Concerts are normally 2 hours duration.