The Fairfax Singers have been enjoying singing since 1996.
We will gladly sing for anyone supporting a good cause – we have already helped raise significant amounts of money for local and national charities. If your charity would like a concert, please contact our secretary.
Variety is our aim and pleasure: from ballads to blues, madrigals to musicals, sacred to swing, traditional to trendy.
We rehearse on Tuesday evenings at 7.30pm at SS Fisher and More, Bradford Road, Burley in Wharfedale.
Charities
We have raised significant funds for charities with concerts held in local churches, village halls and other public venues. We combined, in aid of charity, with a Bingley church choir and with Guiseley Music Centre in concert.
The charities we have supported include
The Yorkshire Air Ambulance; Beamsley Project; AMA – a learning centre in Rwanda; Aware (children with Autism); Bibles for Schools; Zambia Trust (Aids orphans); Open Book; Phakamesa – a charity for African children; Trussell Trust food bank; Horizon Life Training; Christchurch roof fund / Christchurch Dan's Den; the Alzheimers' Society; a renovation fund for a local social club and proceeds for a village hall repair fund; a church organ fund; a village festival fund; the RNLI.; The Clarke Foley Centre; Sue Ryder Hospice Appeal; Parkinson's UK. 
Weddings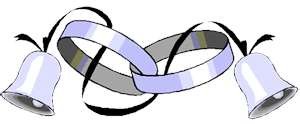 We provide a smaller choir of up to 18 members to sing at weddings.
A list of lovely and appropriate songs is available for you to make your choice. We will lead the hymns and/or entertain your guests during the signing of the register.
We have an on-going arrangement with All Saints Parish Church, Ilkley, to sing at weddings when a choir is required.
Other weddings have been at Weston Church, Otley and Otley Catholic Church.
We also helped to celebrate a very happy Golden Wedding Party at Otley Golf Club.
Corporate Events
Since 2006 we have sung carols under the Christmas tree every year at The Lord Mayor of Bradford's Star Event which raises funds for the Mayor's charity of the year.
We were honoured to receive from the Lord Mayor of Bradford, Councillor Naveeda Ikram, a statuette of the Bradford Boar's head.
We sang outdoors on stage for Otley Rugby Club, at their "Picnic on the Pitch", supported by well known guest artists including a major international baritone and soprano soloist. The Yorkshire Society asked us to provide music in the chapel of Hazlewood Castle for their Christmas Celebration.
For several years, we have been part of the Saltaire Summer Music programme in Robert's Park, and also their winter programme in Shipley.
Other private functions have been the Scouts Garden Party in Ilkley and this summer for the Scouts and Guides Diamond Jubilee Garden Party at Bradleywood, Brighouse.
We entertained at the Eccleshill Lodge, Ladies After Dinner event at Hoyle Court, Baildon December 2012 and again on March 8, 2016
Guest Artists
We seek to promote talented young musicians, instrumentalists as well as singers.
 Our Guest Artist at Christchurch in December 2015 was young Soprano, Charlotte Marsh. 12 years old Charlotte attends Guiseley School. She enjoys all aspects of performing arts. She has singing lessons with Sally Leeming and earlier this year achieved a distinction in Grade 3 singing exam with the ABRSM.
Charlotte, then aged 11, was previously our guest artist at Headingley, St Columba.
In 2011 Charlotte won Brit Idol, a singing competition and also that year performed with Northern Ballet as a mouse in their production of the Nutcracker. In 2013 Charlotte was a fairy in A Midsummer Night's Dream with Opera North and went on tour with the company to various venues around the UK.
Most recently Charlotte played the role of the Dreamer in her dancing school's annual show ~ Dreamcatcher; staged at the Alhambra Theatre Bradford. This took Charlotte to new heights [literally] as she had to fly on stage
Joining us at our Caring for Life concert in 2013 were a talented student duo: Heriberto Cruz, pianist, and James Wilson, flautist, from the Leeds College of Music, pictured below left and right, who brought along another student musician who played for us impromptu, centre photo: a wonderful evening.
Previous guests artists include the brother and sister young harpists, Jacob and Tilly Nichols. Tilly has since outgrown her tiny harp and has passed it on to young Alice Baker, aged 7, who sang sweetly, accompanying herself at our last concert last summer. 
Joining us at other events have been Oliver Wales, violin; Jonathan Holt, flute; Emily Cade, soprano; Rowena Thornton, soprano; Beth Plummer, piano – all promising young musicians. We recently combined with Guiseley Music Centre led by Sarah Baker, head of the centre, who brought their Concert Band, Clarinet Choir and Jazz Band – so many talented instrumentalists, with mixed ages in all groups – to join with us at Christchurch, Ilkley. Young Tammas, initially held our attention as percussionist with the Concert Band, and then played us back brilliantly on the piano after the interval. The GMC Concert Band joined with us again in October for the first half of our concert at St Margaret's, Horsforth, with Tammas performing as our very talented young guest pianist for the second half of the programme.
Other guest artists have been Neil Baker, baritone, who sings in major international operatic and concert roles; the well-known soprano, Joanne Dexter; Liz Frankland, Stella Whitehouse and Rowena Thornton – all wonderful soprano voices; Liz and Richard Kenwood–Herriot, internationally known oboe and piano duo; Craig Edwards and Mike Nicholas, piano and organ.